Both CEOs and staffing firms shared that despite planned headcount additions, they are struggling to fill open roles, with the number of posted sales roles growing by 65% since early 2021. Further complicating sales leaders' efforts to hit quota, on average, surveyed leaders are operating with 31% of sales capacity that's either open headcount or in year 1 on the job, indicating partial capacity at best. With growth hires representing critical enablers of many organizations' plans, hiring teams will likely fail to keep up with 2022 headcount needs.
A relatively conservative analysis shows that between open headcount, first-year reps operating at about half capacity, attrition, and growth headcount, companies will face 51.5% of sales capacity that is at-risk in 2022.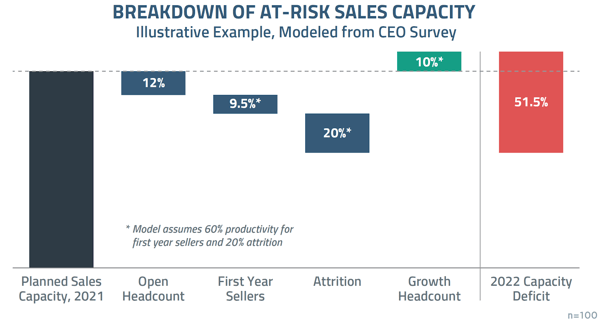 Rather than racing (and likely overpaying) to fill every opening with top-performing talent as quickly as possible, companies should be thinking about how to outsmart the war for talent — rather than winning it. Through conversations with high-performing CEOs and a deep dive into this group's spending bets for 2022, we identified two ways companies are fighting the war on talent. One involves doubling down on the hiring process and getting creative with candidate profiles. The other— covered in the subsequent section — centers on productivity, offloading as much market coverage to digital channels as possible and maximizing productivity of talent in seat with strong revenue enablement and operations capabilities.
During a series of advisory board meetings in early fall 2021, CEOs and other growth leaders shared the following tactics to support talent challenges:
Diversify your hiring approach. Leaders identify the skills that they need rather than a specific number of years of industry or selling experience. Several CEOs shared positive experiences sourcing candidates from other industries or professions and suggested prioritizing curiosity, empathy, willingness and ability to learn quickly, and deep customer understanding during the hiring process. An EdTech leader shared positive experiences hiring educators as sales representatives — not only do they bring unparalleled ability to connect with customers, they generally bring reasonable compensation requirements. Other companies shared that they have been able to promote high-performing staff from other functions internally, bringing a wealth of institutional and customer knowledge into sales roles.
Reimagine the employee value proposition. To improve the odds of attracting candidates in a competitive market, GTM leaders at several tech companies are approaching recruiting much like a sales process. They partnered with HR to define an ICP (ideal candidate persona) and revamped their job descriptions to better articulate the company's story, vision, and purpose – by cohort. To close strong candidates, one SBI client built a communication tool that previews candidates' territory assignment to showcase their likelihood of success in role. The company has also deployed the tool to support its employee retention efforts, comparing territories' potential to ensure equal opportunity for success.
Support rapid onboarding and success of new hires. With 94% of sales leaders planning to add headcount in at least one area (i.e., field sales, inside sales, key accounts) in 2022, companies need to consider scalable onboarding programs that they can deliver through virtual channels. Many of the leaders represented in this research are rearchitecting new hire boot camps for hybrid workforce needs. One company we spoke with made an even bigger change: shifting new hire onboarding from frontline managers to star reps. By shifting these responsibilities, the company was able to accelerate new reps' speed to productivity while simultaneously providing extra capacity to both high performers and sales managers.
Retain existing talent. With employee attrition ranging from 10-40%, companies need true retention strategies. Most commercial leaders shared practices that spanned communication, recognition, and career pathing. Some of the more interesting ideas included the development of recognition practices by cohort, internal career fairs to showcase career pathing and growth opportunities, and the identification of the company's "must-keep" 10-15% talent, so that leadership can create the best possible experience for these high performers.
While talent challenges are unlikely to disappear anytime soon, companies can prepare by evaluating their practices across all available levers, including talent attraction, retention, and new employee ramping. 
To learn about additional risks facing commercial leaders in 2022, click here to read our full report. 
---
"Four Risks Growth Leaders Must Consider for 2022" is a four-part series from SBI Research. Join us each week for a deep dive into each of the risks outlined in our recent report.
Unrealistic assumptions about talent
Disproportionate budget allocation to 'feet on the street'
CX Initiatives that are no more than lip service
Too much agility